We have just launched a japanese translation to this wiki. If you speak japanese and would like to help, please do so
here
!
日本語版Wikiの制作をスタートしました。日本語が理解でき、かつWikiの制作にご協力頂ける方は
こちら
からご参加下さい!
Welcome to the Taming.io Wiki!
Taming.io is an online multiplayer 2D .io game created by the web developer LapaMauve. Your objective is to stay alive for as long as possible as you age and achieve better resources.
Wiki Pages
Official Links

Tamon.io is an RPG game hosted by the bot of same name, with many references to Pokémon, which is played by any group of people in the Taming.io Discord server; it sorts a voted action and plays it out. It contains the canonical lore of Taming.io. To play it, you must enter the discord channels #lobby-1, #lobby-2 or #lobby-3.
If Taming.io is blocked at your computer, you can try using official proxy sites, though note that saved settings won't apply even if you log-in.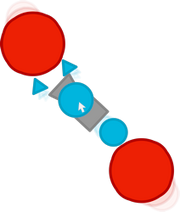 Wiki Community
If you want to talk with wiki moderators and community, you can join our forums and wiki Discord.
If you'd like to contribute to this wiki, please read our guidelines and our help article on contributing.
Blog posts are used for talking about general stuff within the community.
Changes to the main page can be made here.